Hi all,
This June I am hoping to take part in the Annual Ride for Sight. Please visit my fundraising page and leave a donation. I set my goal at an easy $50 and I'm already halfway there.
Rene
Our little boy turned two today. It's hard to believe he's gone from a helpless infant to a little troublemaker so quickly! Thanks for all the cards and Birthday greetings! We can't wait to have his party on Saturday!
Happy Birthday Nicholas!!!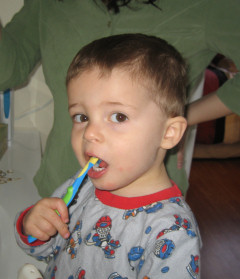 We need more snow. It's really hard playing around on the snowmobile with so little snow.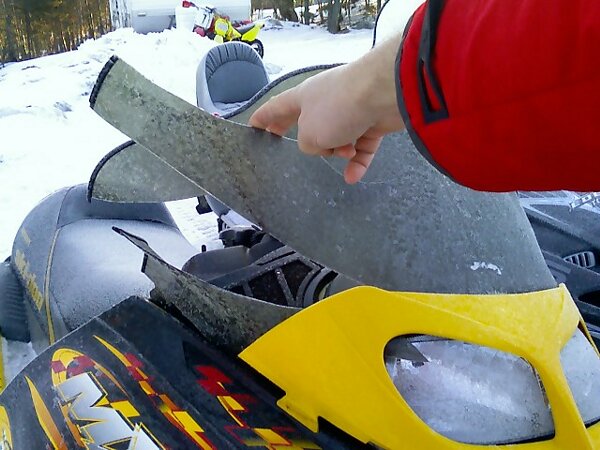 I started playing around in front of the house yesterday evening and went a little overboard. The MX-Z went up the hill and I held tight. When she hit the top she got some good grip and took off, with me hanging on. Up and over the snowbank, the only part of me touching the machine were my hands, gripping tightly. The machine hit the ground, I bounced off the windshield, literally, and then hit the ground. I'm ok, a couple of bumps, nothing serious, but now I have to buy a windshield. 🙁 Oh, and I had an audience. Siobhan was watching, but didn't seem very happy. Her mom thought the snowmobile was gonna run me over and Nicholas was in awe. Oops.
Rene
This past Saturday Nicholas got curious about the stuff in his diaper bag. When I saw noticed what he was doing, everything was on the floor and he was playing with his toilet seat.
Eventually he discovered that he could pull the toilet seat over his head. He then discovered that it wouldn't come off quite as easily. He looked and me and said "stuck." I asked him if he wanted help and he said "Daddy help me." I then attempted to pull the seat off of his head… it came off, eventually, but not after a little bit of gentle coaxing and some tears. Unfortunately I never took any pictures. I was a bit preoccupied with freeing Nicholas from his toilet seat trap.  It was quite a funny scene and even Nicholas had a few laughs along with the tears. Hopefully he now knows that certain things don't go over your head.
The poor little bugger had his tonsils out on Wednesday. His recovery is coming along good and he's being a little trooper through it all. We wish him the best of luck and can't wait for him to get back home.
Wow, what a downpour. It started late last night with lots of wind. Nicholas was up at 5 am and we've been up ever since. A little bit of water in our crawlspace but I think that's taken care of now. The eavestroughs on our new house are done wrong and the entire amount of water collected by the gutters actually flows into one downspout and into our weeping tile. On top of that the gutters are mostly full of ice and all the water from the higher part of the roof is diverted to the lower part where it simply runs out over the lower eavestrough and comes right down the side of the house. As of this morning the downspout has been taken out of the weeping tile and a piece of plywood is diverting the water away from the house for now. As soon as I get a warm day I'm going to try and install at least one more downspout on the house.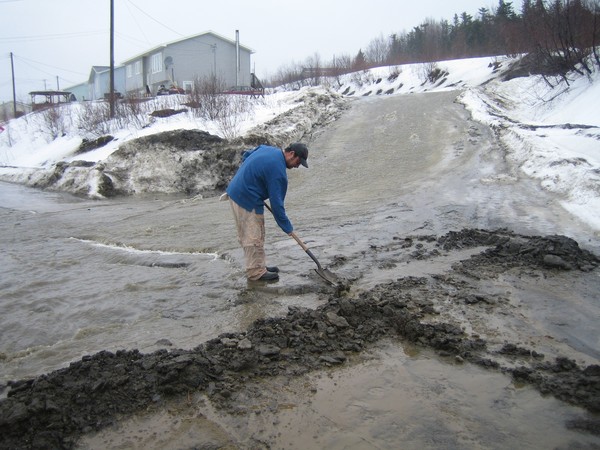 Unfortunately others are having even worse luck. Water is everywhere. Some pictures are in the Gallery. Heavy equipment is everywhere clearing out culverts and actually digging ditches across the top of some roads to help divert water. It's a good thing Conne River is built on the side of a hill othewise we'd have a real hell of a mess!
It's long overdue but I have finally uploaded some new pictures of Nicholas in the gallery.
Our little boy is growing up fast. He putting sentences together, expressing ownership and learning new words and phrases all the time. It's not strange to hear sentences like "Daddy read one book" or "The ball is in the tub." He loves doing what we are doing and is very curious. He helped me put together some storage cabinets for our laundry room the other day and when I had a screwdriver, her had a screwdriver. When I hammered nails, he got his little toy hammer and helped me. He's always helping Siobhan cook and enjoying taste tasting along the way. Not all of his curiosity and "help" is good though. Siobhan decided to paint the downstairs bathroom the other day… she left what she was doing while me and Nicholas watched some tv. He disappeared and was a little too quiet. When I looked for him he simply said, "water." Too bad he was after dipping both of his hands into the paint can and made a mess of himself.
The last while has been quite an interesting time with the little guy. Right now he has decided that bedtime just isn't for him. We are trying everything to get him to go to sleep without us having to be at his side… tonight is his first night in his toddler bed. No more crib! Yikes!!! He still had issues tonight, but during his 20 minutes of crying he never once left his bed. Hopefully that is a good sign… hopefully! In the past he went to bed, said, "night night" and slept until the next morning. I hope we get back to that again, soon.
Finally, after years of waiting and working on getting some sort of broadband service here in Conne River, it's coming!
12 kilometers of fiber optic cable have to be laid and then the equipment has to be put in place, after that we are on broadband… finally! The expected date of arrival is September 2008, but I expect delays. No matter whn it happens, there will be a lot of happy people here!
We moved in to our new house on the 12th of January. We're starting to get pretty comfortable now. Nicholas never had a problem with the move and he loves all the room he has to run around. The house is great. There's a few minor issues with it, but all in all we are very happy with it!
Pictures to come soon!
Rene
P.S. It helps to hit the post button! I had this written up for a week in a tab and never hit post. My bad!
We've been clearing out our house for the past two weeks now and will be in our new house on Saturday. Almost everything is brought down there now except for Nicholas' stuff and our mattress and some food. Pics of the new house will be posted soon!