Archive for the 'Weather' Category
It got cold again!
Unfortunately grass and dirt is visible everywhere. The ice is getting thicker with temperatures only warming up to around -10 C since Friday! Right now it's -15.1 C and that's where it's been hovering all evening.
Nice for a quad right now… unfortunately the snowmobile is kinda useless. 🙁
Rene
Rain, rain, go away!
It's been pouring and the temps haven't hit zero in 2 full days. Almost all the snow is gone now except for the big piles and the mud is starting to appear in full force. 🙁
We are supposed to get a few centimeters of flurries over next few days so there is some hope yet.
One possible good thing about the rain and warm temperatures is that I might actually find my keys now! 🙂
So much for the -20 temperatures. The snow is melting away fast! The temps have since been hovering in the 0 to +5 C range and the air has been very moist and is eating away at the snow. With more rain forecast I am not holding my breath on doing much more snowmobiling this year. We only have another month and a half to two months left and right now there's probably three or four inches of snow on my front lawn.
I only hope my rink in the back yard doesn't disappear before I get to try it out. 🙁
Rene
We had rain on Friday (the 11th) and apparently some Thunder and Lightning on Friday Night. Things cooled down again on Saturday and on Sunday we had 6 inches or so of snow. Yesterday was a cool sunny day and this morning my thermometer actually hit -20.5 C! It's nice and sunny outside right now but very cold.
We had a warm day here today. +3 C and a little rain. The snow took a little hit but not as bad as the rink I started the other night when it was -16 C. 🙁
Oh well, here's to colder days ahead!
Rene
I thought I would let you all know that there are some new weather pics and videos in the gallery.
We woke up this morning to a cold -14 C after a night with lots of wind. There's drifting everywhere. I plowed the driveway last night at 9 pm and I had to plow and shovel again this morning at 7:30 am.
I even put a video clip of max hopping through the snow and of me playing a little in the CR-V in our backyard.
It's still quite cold outside and the wind is blowing like crazy. Glad it's a weekend! If I didn't have other plans I would probably just stay inside tonight and watch some movies or play some games.
Later all!
P.S. Hope your hand isn't cut too badly Steve!
Crazy stuff happening outside. The snow hasn't stopped since this morning and the wind is now blowing like crazy. It's been -12 C or so all day! We've come a long way since last Sunday when we were cutting holes out on the ice with only patches of snow around. We now have a good solid 2 feet in most places!
Pics will follow tomorrow sometime.
MORE SNOW!!!! YAHOOOOO!!!!!!
Woke up this morning to another foot or so of the white stuff. Lots of wind and cold temperatures. -7.8 when I left to go out to shovel and plow at 8:30 this morning. The SnowBear wouldn't work again this morning. I took the boots* to it (the winch) and then she moved! Not happy and no callback from SnowBear as of yet.
I can't wait to get out and do some snowmobiling!
*I never had anything hard to tap it with (much like one would do to a stuck starting motor) so I had to give it a gentle tap with the heel of my boot.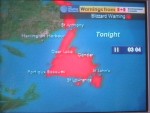 Finally some good winter weather. We had a forecast for snow and rain. Looks like we got over 30 cms in our area. It turned to rain around 10:30 am but it's not a lot of rain and I am guessing we'll have some snow left over this time around!
I had lots of fun plowing the driveway this morning and the snow was starting to get heavy. Fortunately this made for good traction so I never got stuck while trying to move the heavy wet snow. The little Snow Bear plow works wonders. Well worth it for someone with a truck. It's a lot faster and easier then a snowblower and it's also cheaper then most snowblowers out there. Having a roof, windshield, heater and cup holders makes it a lot nicer as well!
We cut a few holes in the ice yesterday. Between Conne River and Morrisville there is 12 – 14 inches of ice. Between Conne River and St. Alban's it was around 5-7 inches. Someone actually drove to St. Alban's across the ice in their truck the other night. Luck was with them moving that weight over so little ice. We drilled one hole near the tracks and the ice cracked underneath us. I got out of there in a hurry and let Rodger finish the drilling.
Pictures have been added to the gallery!
-1 this morning. We had about 5 cms of heavy snow fall throughout the night. 🙂
It's been cold over the last few days. From -8 to -12 or so.
Nothing much else happening though.