Archive for the 'Weather' Category
Wow, what a downpour. It started late last night with lots of wind. Nicholas was up at 5 am and we've been up ever since. A little bit of water in our crawlspace but I think that's taken care of now. The eavestroughs on our new house are done wrong and the entire amount of water collected by the gutters actually flows into one downspout and into our weeping tile. On top of that the gutters are mostly full of ice and all the water from the higher part of the roof is diverted to the lower part where it simply runs out over the lower eavestrough and comes right down the side of the house. As of this morning the downspout has been taken out of the weeping tile and a piece of plywood is diverting the water away from the house for now. As soon as I get a warm day I'm going to try and install at least one more downspout on the house.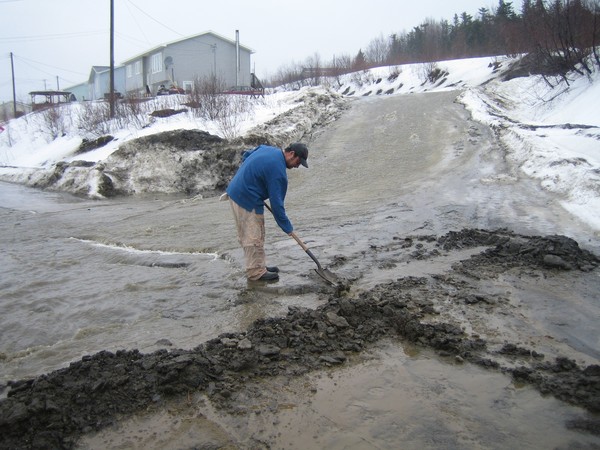 Unfortunately others are having even worse luck. Water is everywhere. Some pictures are in the Gallery. Heavy equipment is everywhere clearing out culverts and actually digging ditches across the top of some roads to help divert water. It's a good thing Conne River is built on the side of a hill othewise we'd have a real hell of a mess!
Just a day after my last post we had a bit of snow fall. We then had more start falling 4 days later. We ended up with about a foot of snow overnight. The roads didn't appear to have been salted and vehicles were slipping all over the place. My CR-V got stuck trying to get up our driveway and almost ended up in a ditch. Danny got his truck stuck on a couple times trying to plow with poor tires.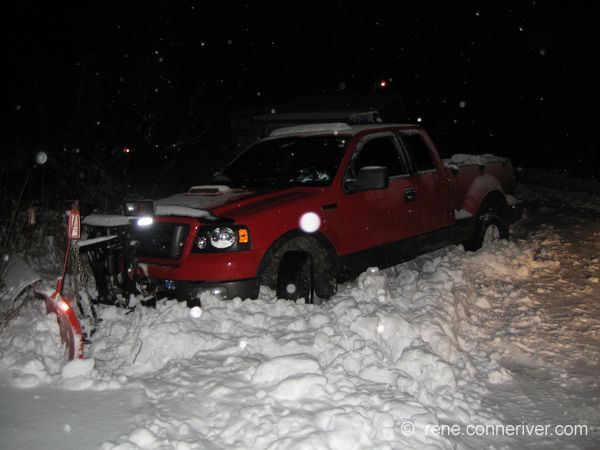 More snow pictures can be found in the Gallery!
I have also uploaded some new pics of our little man. Nicholas is growing up quick and I could take pictures of him all day long! No crawling yet, but he now has two teeth. He hops around a little on his bum and turns around all the time. He holds his own weight when he stands by grabbing onto my pointer fingers and walks all around like it.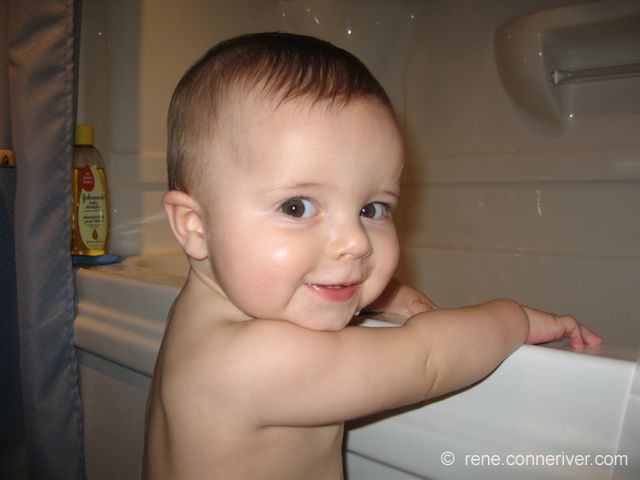 It's neat to see how fast he picks up on doing things and to watch him play. He seems to love books like his cousin Brayden, and he also seems to have Braydens appetite for eating them.
More pictures of Nicholas can also be found in the Gallery!
Later
Rene
So far this year we have had quite a pittiful winter. The picture below was taken this past Sunday, January 8th, 2006. Last year on January 9th me and Siobhan were out on the ice cutting holes to check the thickness.
Since this picture was taken we have had a nice snowfall and a day or two with a white landscape only to be followed by a couple days with Rain and Fog and temperatures hitting +10 degrees Celsius.
Only time will tell what we have in store, but I'm not getting my hopes up on putting more miles on my snowmobile then the 400 I put on her last year. 🙁
sigh…
On the other hand, Siobhan's belly is growing more and more each and every day!
Later
Rene
We're definitely starting to get excited now!
This was the temperature reading on our thermometer this morning!

And outside I managed to get enough frost scraped up to make a snowball. Unfortunately Sio is recovering from the flu so I couldn't throw it at her. 🙁
Soon….. 🙂
Some more pics from this morning in my Gallery.
Looks like the cold season is officially upon us (in my books anyways!). Siobhan looked out the patio door while we were eating our dinner and saw snow falling! It might have been nearly microscopic, but it was there, blowing happily around the sky!
Time to get the Polaris ready for the winter!
Rene
Some weather to report again. For the last two weeks or so we have had nothing but nice sunny weather. Then as of yesterday we had a forecast for snow and rain. The snow started about 12 hours later then forecasted. At 11pm last night it started coming donw. This morning at 7 am the snow was still coming down. We had about 15 cms at this point. It turned to rain shortly after and had been raining every since. It's not very nice looking outside right now and the snow is a big pile of slush.
It snowed again last night, then we had some ice pellets and then some rain and then some more ice pellets. It slacked off overnight but then it started raining this morning. The sky is clearing up now so it looks as if this little weather system is over.
There's loads of snow everywhere. Driving the snowmobile out on the ice is almost like riding a Jet-Ski… except you don't plane out and ride on top. The skis stay pointing up! It might be different now with a little bit of rain being mixed into the snow.
I put a few pics of the snow we got last weekend up in the gallery. Check it out here!
I borrowed a snowblower yesterday to clear the rink in our backyard. Thanks Rod! I never would have been able to shovel all that snow myself.
Rene
and then it snowed…
…and snowed, and snowed!
Finally we have some decent amounts of white stuff on the ground. We got about 6 inches of snow from Thursday night to Friday afternoon. We finally had some more white stuff after losing all the snow we had before.
Then, last night around 11 pm or so it started snowing again. I never thought much of it until I actually opened the door this morning at around 8 am. We took out a measuring tape and the snow was 13 inches and still soming down. It hasn't really stopped yet another 12 hours later but the wind picked up late this afternoon and we have some massive drifts building up.
I've got a bunch of pics and videos from today but I'm too lazy right now to upload them. Tomorrow hopefully!
Oh, our skating rink needs work now. Gotta get a snowblower when the wind stops!
Rene