Archive for the 'Uncategorized' Category
I've put another new batch of pictures of the little guy in the Gallery.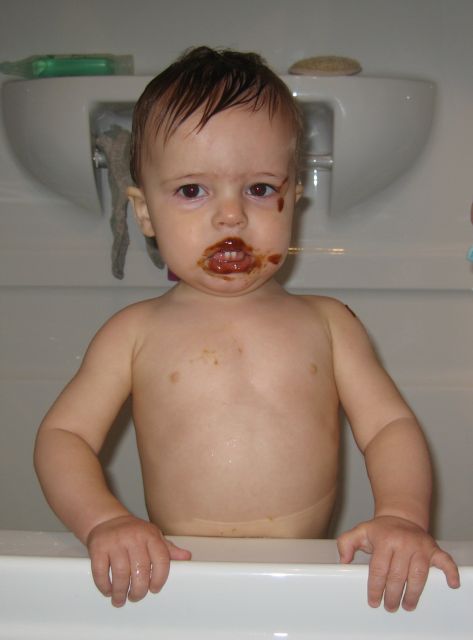 Check them out!
Rene
It was a sad day for Siobhan. She didn't want her boy to lose his curls, but it had to be done. Nicholas had his first haircut on Saturday, April the 14th.
The was also the first day that he never had a bottle and he hasn't had a bottle since. He was a bit fussy the first few times we tried to give him his milk from other cups but he has accepted it since then. We only have three cans of formula left and then he's on to whole milk! It's a scary thing to realize your baby is growing up!
My niece Carla also had her Christening last Sunday. She was wide eyed and quiet through the ceremony.
Afterwards me and Nicholas headed out to do some four-wheeling and we had some fun at that. The little guy really loves vehicles and anything to do with them. He always has a car or motorcycle in his hands pushing it around the floor and making vroom vroom noises.
Nicholas' friend Jonah had his first birthday party on Wednesday. Nicholas pigged out on cheesies, onion rings, hot dog and a small piece of cake.
Nicholas will be celebrating his first birthday on Sunday with his cousins and a few friends. Hi actual birthday is on Tuesday. Scary stuff… again with the realization that he is growing up!
He hasn't gotten sick during mealtime for over three weeks now and we are feeling pretty happy with that. We actually retired his "buddy", the stainless steel bowl we kept on the table for his mealtime exploits.
I guess that's it for now. I'll be taking some pics on Sunday with my phone to upload to my Flickr photos so the action will be somewhat live.
Later!
Rene
P.S. It's 13.9 degrees and sunny outside. I want to ride my bike but I won't have a chance today!
Here's a picture I took this morning at around 8am. It was -20 Celsius at the time of the picture.
I took the MXZ for a little run last night, unfortunately my snowpants were left at work so I had to bundle up with a couple of layers of pants. I almost froze. Small windshield and only one working handwarmer at -15 is not so fun. It's a totally different machine then the Polaris. Easy to toss around and play on, but nowhere near as comfortable a ride as I am used to.
The power is excellent compared to my Polaris 550 fan as expected. This machine hauls me around like there is no tomorrow while the Polaris drags its butt around like a sick animal. Different machines all together!
Rene

2002 Ski-Doo MXZ 600

Uploaded to flicker.

I haven't had a chance to get any good pictures of her yet, but this is my 2002 Ski-Doo MXZ 600 that I bought earlier this week. She's sitting in the box of my truck right now, but hopefully tonight I'll get a chance to take her for a run.
More pics to come soon! Me and Siobhan want to take our machines for a ride this weekend.
Rene


Another good ride this past weekend. Me and Siobhan went to Mount Sylvester on a sponsored ride with 44 snowmobiles and about 80 people ranging in age from 3 – 60+. There's more information at www.ridetothemountain.com, a site I made for the trip.
It was an all day trip, we left home at 8:45 am and got back home around 5:00 pm. I had 74 miles on my snowmobile when I got back to the start point.
We left from South East Pond Road and drove to AMalijek for our first break. From there we went on to Mount Sylvester. The snow was picking up and it was a little windy but we had experienced guides and a number of GPS units. Once we arrived at the base of the mountain some people decided to venture up on the snowmobiles. The mountain was so windswept that no one made it to the summit on their machines due to the bare rock surface. I'd guess about half of the people went to the top while the rest stayed at the lake below.
Once everybody got back to the base and had a little break we headed off to Medonnegonix Lodge. The trip from the mountain to here was a little rougher. One spot in particular required a lot of manual labour to get about half of the machines through. We all chipped in and everybody made it without any casualties. Once we got to the lodge the staff had a meal of soup, sandwiches, and hot dogs ready for us with all the hot tea and Pepsi one could drink.

Video of all the snowmobiles except mine leaving Amalijek.
We spent about an hour and a half at the lodge. Everybody was stuffed, the kids had a snowman built using cheese slices for the eyes and mouth (I never got a picture of that), and starting to get tired.
We now started the trek back to the road where we began. This leg of the trip was pretty easy and quick. Only one person flew off their snowmobile while trying to ride up a hill. Gerard took care of that with his shovel and everyone else was simply able to ride up the hill with little issue.
After we got back to the parking area I decided to continue home on the snowmobile while Siobhan drove the truck home. If I never stopped for gas on the way I would have beat her. The riding is perfect.
We are hoping next year will be just as big, or hopefully bigger. It was wonderful seeing a line of snowmobiles behind you as far as you could see.
Rene

A Picture/Video Message!

Originally uploaded by renejeddore.

I got a new phone for my Birthday and it lets me take pictures and send them directly to my website via Flickr. You can see my Flickr "Badge" on the left-hand side of my site.
This picture is a shot of me and Nicholas on our way to his Nanny's house this morning.
Later
Rene