Archive for January, 2012
Nathan is quite curious everytime I start to work on a computer. He was quite happy to get his hands on the screwdriver and start fixing his Qimo computer.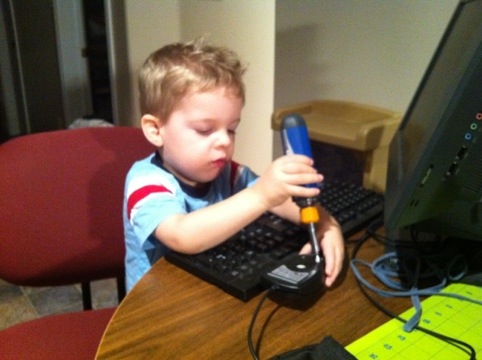 When I asked Nathan today what he wanted to be when he grew up was quick to tell me he wanted to be a Policeman.
Nicholas, on the otherhand, has always been the one to say he wanted to be a computer fixer and move to Fiji… and then maybe to Africa and learn another language.
Let's see if I can continue this blog where it left off three years ago. First of all I think I have all of the hacked stuff fixed… however a lot of links to pictures and my old gallery don't work anymore. I've been working on it but with all the damage that was done by the hack I've pretty much given up on it now. Facebook has taken over the sharing duties that this blog once did for my family and friends so I don't know how things will progress with this… I'll give it a shot though.
Three years of missed blog entries… hmmmm… where to start….? The biggest thing that has happened in my life in the past three years has been the birth of our second son, Nathan. He's about to celebrate his third Birthday in a month and he's been a real nut to have in our family. We also have a nephew, Alexander, who was born a couple of months after Nathan.
I've done a bit of travel, to the Dominican Republic and Florida. I've seen the second last space shuttle launch.
Apple has entered our lives. Two iPhones, a couple of iPods and an AppleTV, with no end in sight. All of these devices have been hacked in some way of course. XBMC is how I watch most TV shows and Movies.
Work is the same, more or less.
And to top it all off, I'm still married to the best wife in the world, and no, she didn't make me write this. 🙂
So that's a quick rundown on the past three years. Hopefully I'll keep on top of this again now!