Archive for February, 2007

A Picture/Video Message!

Originally uploaded by renejeddore.

I got a new phone for my Birthday and it lets me take pictures and send them directly to my website via Flickr. You can see my Flickr "Badge" on the left-hand side of my site.
This picture is a shot of me and Nicholas on our way to his Nanny's house this morning.
Later
Rene


For the first time in two years me and Siobhan were able to get out for a snowmobile ride together. We had a great day and had a bit of fun on our machine. We travelled with Danny and Angel and did a bit of exploring. On our way home we lucked into a small drift that hadn't been touched yet and decided to leave our mark. We both had Polaris Edge Touring machines so we never flew quite as far as we might have otherwise. I'm keepng my eyes open for a cheap little toy for playtime in the future. 🙂
It was a great day!
The winter has been turning out to be a good one. Vehicles have been on the ice for over a week now and I've been out playing around in my CR-V and truck a few times. Real nice way to get to St. Alban's. The road is actually plowed the whole way from Conne to St. Alban's.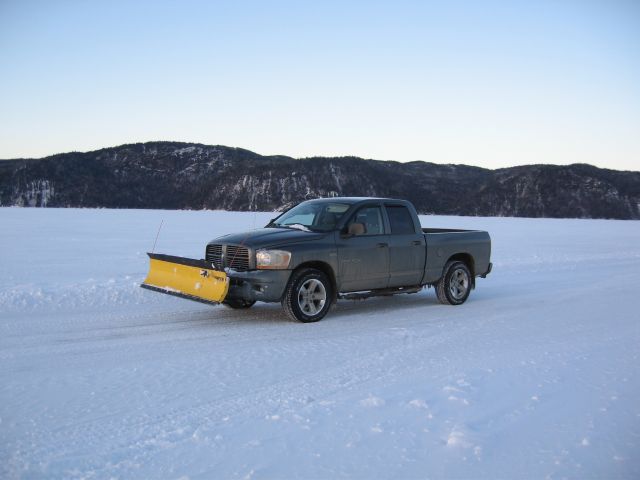 Last weekend me and Cory hit the ice in my Honda CR-V for some fun. Cory took the following video of me after I hit a drift and damaged the exhaust (which Siobhan already beat up while four wheeling one night). Lots of fun to be had on smooth ice!
Later
Rene
This was supposed to be posted yesterday but I never had a chance.
I am now oficially 30 (plus 1 day). Unfortunately both Siobhan and Nicholas are sick with the cold. Lots of fevers and coughing going around. Nicholas got hit pretty hard and lost his voice yesterday before my family showed up for my birthday party.
Siobhan managed to make a fantastic meal and cake for us all to enjoy despite being sick. I got to spend a whole lot of time with my boy! Too bad he was sick, but I can't think of anything esle I would rather do then try and make him laugh even if it involves putting a stainless steel bowl on my head and hitting it with a wooden spoon. Unfortunately he didn't find it too funny, Siobhan seemed to enjoy it though.
So, I'm 30? Anymore grey hairs?? Dunno, got them all shaved off last week! Do I feel older? Maybe more like 17 instead of 16 now, but definately not 30. 🙂

Our sick boy.

My cake!

The boys playing with toys and games

Brayden is sick as well

Me and my cake! Thanks again Siobhan!!!
Later all!
I guess it's true. I ate my first half of a Kiwi today after feeding Nicholas the first half. It was pretty good… I didn't fancy the seeds though.
Nicholas had his first snowmobile ride a few days ago. He never had a problem with it and we went about 1 kilometer all together. If it wasn't so windy we would have gone longer.

Another plow truck went off the road. This one looked a bit more serious though. Thanks Jody for the picture!

Last, but not least, Melissa Drake's Dad almost got flattened. He got out of the way in time, unfortunately the truck didn't fare so well!